Recruiting, Ongoing, Upcoming, Completed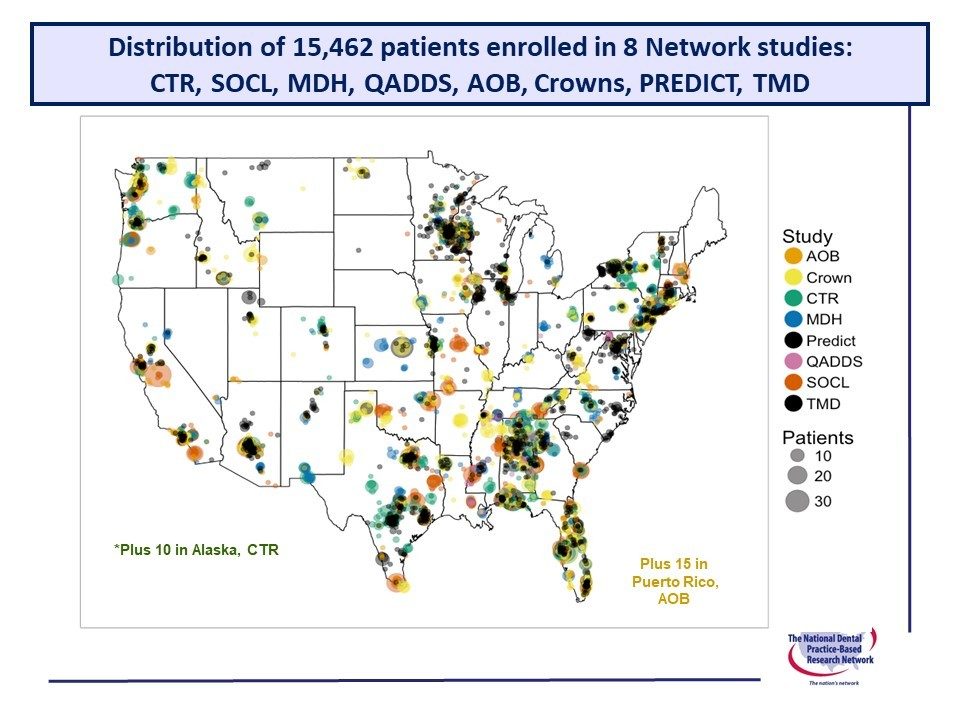 Conducted between 2021-2026
Funded by NIH grants U19-DE-28717 and U01-DE-28727
Studies in development or still in data collection (n=5)
Study PI: Dr. Nicolaas Geurs, University of Alabama at Birmingham
Brief Study Description
There is a substantial body of literature to support that biological and prosthetic complications occur which may interfere with the health of the peri-implant tissues, the function and esthetics of the implant restoration. Peri-implant diseases are classified into peri-implant mucositis, inflammation restricted to the peri-implant mucosa,  and peri-implantitis, characterized by peri-implant bone loss. The limitations of the current body of literature of biologic and prosthetic complications are based on many small studies and in large part conducted in an academic and specialty setting. We propose to create an implant registry within the National Dental Practice-Based Research Network (NDPBRN) that will record the setting and implant therapy, the implants used, the prosthetic therapy provided and the rate of complications. The registry will create an opportunity for subsequent, additional targeted studies on specific complications available from the registry data and will lead to diagnosis driven therapy strategies. The target enrollment is a total of 2000 implants with prosthesis across the whole network. The one year UG3 Phase will be used to create a strategy to be able to meet the recruitment and enrollment objectives and to develop the protocol for data collection to facilitate the data gathering of the practitioners for the subjects they enroll. The data collection model we propose will be designed to be validated, concise, and easy to use for practitioners. We will develop a web based decision tree that will guide the practitioner through the data collection. The UH3 phase will recruit practitioners with representation of all 6 regions of the network that will enroll subjects with 2000 implants. Data collection will be detailed and comprehensive and will include surgical, prosthetic, and biologic aspects of implant therapy and radiographs for bone level assessments for a period of 3 years. The data will present clinically meaningful information about the prevalence of the various implant therapies, the incidence of prosthetic and biologic implant complications, risk factors for implant complications and evidence-based implant therapy strategies in every dental practices. We expect that the results from this study will significantly impact the clinical practice of implant dentistry and the quality of care provided for the patients.
Key study publications: [pending]
Study data dictionary [pending]
Data set [not yet available]
Study PI: Dr. Sandra Japuntich, Hennepin Healthcare
Brief Study Description
Cigarette smoking has profound negative effects on oral health. Smoking cessation decreases the incidence and progression of oral health problems. Most smokers attempt to quit, but the majority of quit attempts are unaided by smoking cessation medications and end in relapse. The American Dental Hygienists Association recommends that all oral health professionals Ask patients if they smoke, Advise smokers to quit, and Refer smokers to national quitlines for counseling (Ask-Advise-Refer; AAR). AAR connects patients directly to counseling but not to medication, which can double cessation rates independent of counseling. Indeed, few dentists prescribe smoking cessation medications. Failure to connect smokers to medication is a critical missed opportunity to prevent disease and save lives. Nicotine Replacement Therapy sampling (NRTS) refers to providing all smokers, regardless of their current interest in quitting, with free samples of over-the-counter NRT products and brief use instructions. NRTS has been shown to increase quit attempts, smoking cessation self-efficacy, and positive attitudes toward NRT. Dental settings are an ideal fit for NRTS because NRTS could easily be combined with AAR and providing samples of oral care products is routine and universal in dental care settings. The proposed UG3/UH3 project will test the effectiveness of NRTS in dental practices. In the 2-year Clinical Trial Planning Phase (UG3), we will complete all required milestones to establish feasibility and acceptability of study protocols and prepare for the 3-year Clinical Trial Implementation Phase (UH3). UG3 activities will include stakeholder interviews to evaluate initial acceptability and feasibility of proposed study interventions and procedures, pilot testing, protocol refinement, and recruitment of practices for the UH3 trial.  In the UH3 trial, we propose to conduct a group randomized, hybrid type 1 implementation-effectiveness trial comparing AAR + NRTS (NRTS) to enhanced usual care (ET; AAR + electric toothbrush) in dental practices (N = 50 practices; N = 1200 patients) recruited from the Northeast and Midwest Regions of the National Dental Practice-Based Research Network. Study interventions will be delivered within the practices by trained practice staff. Our central hypothesis is that NRTS will produce greater abstinence rates than ET. Our primary outcome will be biologically verified, 7-day point prevalence abstinence at 6-months post-enrollment. We also predict that compared to ET, NRTS will increase rates of quit attempts, reduce smoking heaviness, and increase NRT utilization. We will conduct a multi-stakeholder process evaluation of the feasibility and acceptability of the NRTS intervention and a cost-effectiveness analysis to aid future implementation efforts. Overall, we expect that, as a result of this project, we will establish the feasibility, acceptability, and effectiveness of NRTS in dental practices and determine that NRTS has high potential for translation to clinical practice.
Key study publications: [pending]
Study protocol [pending]
Study data dictionary [pending]
Data set [not yet available]
Study PI: Dr. Jenna McCauley
Brief Study Description
This study aims to identify critical training and implementation gaps in performing substance use (including tobacco/nicotine, alcohol, prescription misuse, and illicit drugs) screening among adolescent, young adult, and adult patients in dental offices/practices. This study consists of an online survey of member dentists regarding their current knowledge, training experiences, and practice behaviors related to substance use screening of patients. Data from the survey will be paired with key practice-related enrollment data to identify implementation gaps and whether these gaps vary by practice/practitioner characteristics, as well as to inform the development of training and interventions targeting enhanced substance use screening and early intervention in dental practices.
Key study publications: [pending]
Study protocol [pending]
Study data dictionary [pending]
Data set [not yet available]
Study PI: Dr. Georgios Kotsakis
Brief Study Description
The objective of this study is to assess the effectiveness of adjunctive Amoxicillin / Metronidazole combination antibiotics to non-surgical periodontal therapy in clinical practices within the National Dental PBRN by conducting the largest randomized clinical trial (RCT) of adjunctive antibiotics. Further, within this PBRN study current decision-making factors for adjunctive antibiotic prescription will be surveyed to assess the state of affairs in clinical practice. Importantly, leveraging the well-powered RCT dataset, high responders to adjunctive antibiotic treatment will be identified and the predictive validity of decision-making factors currently employed by clinicians will be assessed to develop clear indications for prescription. Collectively, results of adjunctive antibiotic use at present are ambiguous because indications are based on empirical information without evidence-based guidelines, which may lead to antibiotic misuse and lack of efficacy. The present pragmatic well-powered RCT was designed to enable the development of evidence-based guidelines for periodontal adjunctive antibiotic use and promote antibiotic stewardship in dental practice.
Key study publications: [pending]
Study protocol [pending]
Study data dictionary [pending]
Data set [not yet available]
Study PI: Muhammad Waji, PhD
Brief Study Description
Pain is a common, and unwelcome aftermath of seeing the dentist. Indeed, pain has been deemed the fifth vital sign and many describe it as an adverse event (AE). After the effects of the most commonly-used local anesthetic diminishes, dental patients must rely on themselves and their own understanding for pain management following dental procedures. This has led to an over-reliance on prescribed opioids as there are no means to actively track patients' pain once they leave the clinic. To understand effective/appropriate pain management, we need to examine the pain levels experienced by patients caused by which dental procedures. Such an inventory will allow providers to anticipate and better manage their patients' post-operative pain.
Innovative mobile applications and connected health technologies that allow real-time tracking of patients' symptoms, functional status and quality of life, provide healthcare professionals with data that were previously unavailable, and have fostered patient engagement, shared decision-making and adherence to treatment plans. We propose to explore an innovative solution to dental pain monitoring and management by implementing mobile phone technology to monitor patients' pain during the critical acute post-operative phase.
We believe that by tracking patient reported outcomes (PROs) using mobile phones, patients with sub-optimal pain experiences will be easily identified. This study will demonstrate that PROs provide actionable data. This study can also serve as a model for implementing new health IT (mHealth) within dental practices to improve patient engagement.
This observational study will be conducted at the National Dental Practice-based Research Network (the Network) sites, which we believe are ideal for the development of this practical and focused post-operative pain management study. We will recruit up to 50 Network practices and 4050 patients who will receive push notifications through text messages using FollowApp.Care on their mobile phones at designated time intervals following their dental procedure. This innovative approach of implementing an existing and tested mHealth system technology (FollowApp.Care) into the real-world dental office setting of the Network will actively track pain and other complications following dental procedures. By patients using their mobile phones, we expect to promptly and precisely identify specific levels of pain for surgical dental procedures.
During the UG3 phase of the study (Yr 1-2) we will develop all study materials in UG3-Aim1, and in UG3-Aim 2 develop the design features and workflow for implementation of the study. During the UH3 phase (Yr 3-6) we will in UH3-Aim1, pilot test procedures to streamline data collection and workflow in the Network dental office. In UH3- Aim 2 we will assess post-operative pain intensity by procedure type; in UH3-Aim 3 we will assess provider and patient post-op management strategies and in UH3-Aim 4, we will evaluate patients' and providers' acceptance of the mHealth technology.
Key study publications: [pending]
Study data dictionary [pending]
Studies for which data collection has ended (n=13)
Conducted between 2012-2020
Funded by NIH grant U19-DE-022516
Studies for which data collection has ended (n=17)
Conducted between 2005-2012
Funded by NIH grants U01-DE-16746 and U01-DE-16747
Studies for which data collection has ended (n=23)