If you are interested in participating, contact us!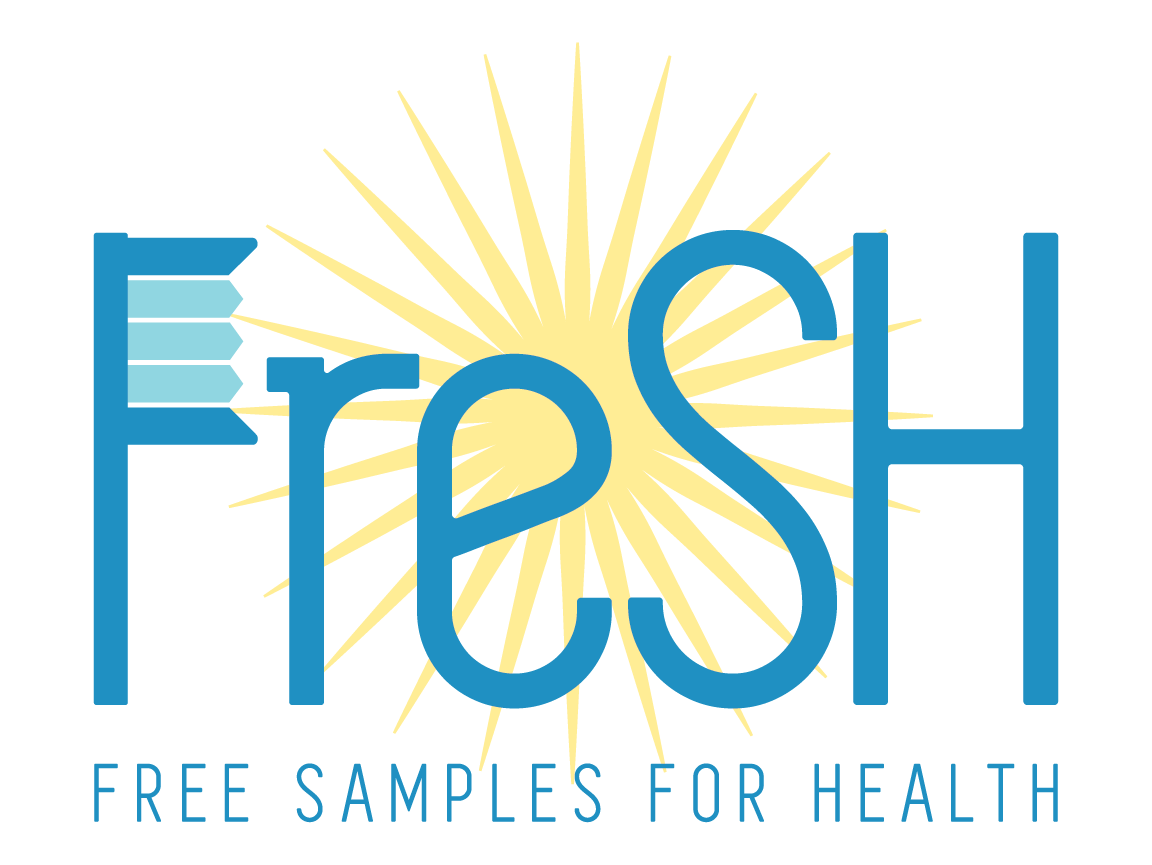 The FreSH Study is recruiting oral health providers
Oral health practitioners rarely treat tobacco use. The FreSH study tests a simple tobacco treatment approach called Nicotine Replacement Therapy Sampling. In this study, practices will provide a brief intervention for tobacco cessation recommended by the American Dental Hygienist's Association called Ask-Advise-Refer (Ask all patients if they smoke, advise them to quit, and refer to the state quitline). In addition, practices will be randomly assigned to provide patients with free samples either nicotine replacement therapy (2-week supply of nicotine patch or nicotine gum) or an electric toothbrush (control group). The study will test whether those who received the free nicotine replacement therapy sample are more likely to have quit smoking 6 months later.
WHAT IS EXPECTED OF YOU?
Recruit 24 patients who smoke over the next year
Administer a screening form, informed consent, and baseline survey on a study-provided iPad
Deliver a scripted <5 min smoking cessation intervention called Ask-Advise-Refer
Give out a sample bag containing an electric toothbrush or Nicotine Replacement Therapy (NRT) samples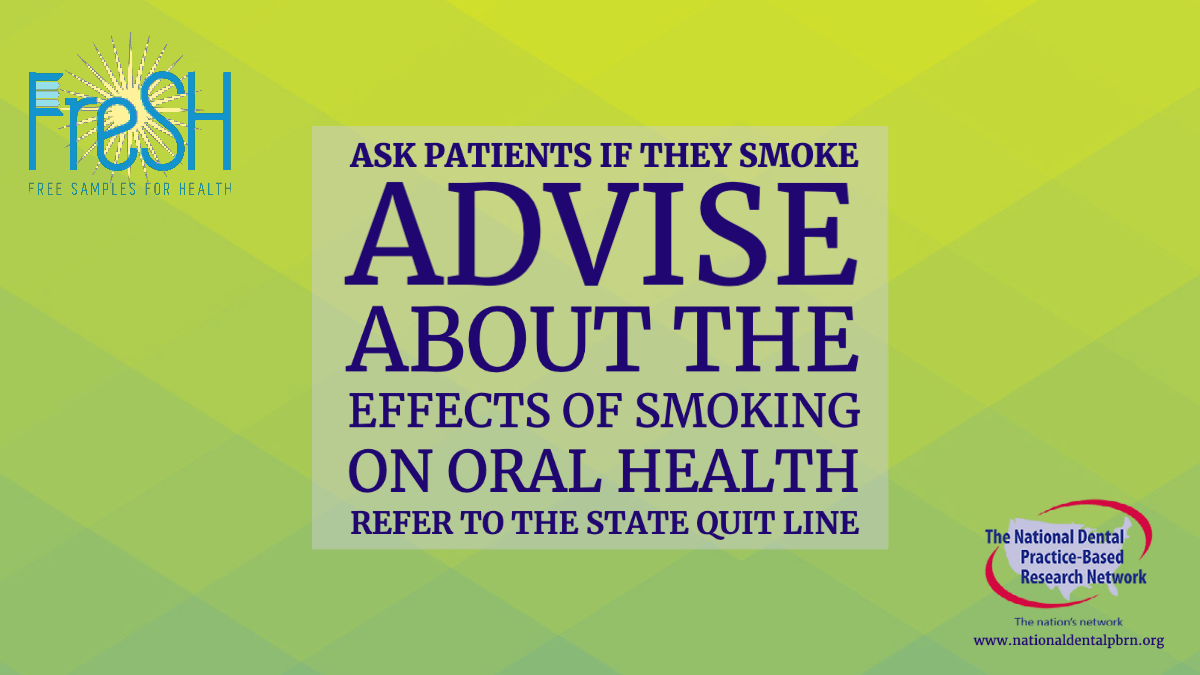 WHICH PATIENTS CAN PARTICIPATE?
18 years old or older
Smoke at least 1 cigarette per day 25 days/month
Have access to a smart phone
Able to commit to study requirements over 6 months
Patients DO NOT need to stop smoking to participate!
WHAT IS EXPECTED OF MY PATIENTS?
Receive brief counseling from their dentist about smoking
Be offered a referral to the state quitline
Receive a free sample (nicotine replacement therapy or electric toothbrush)
Complete 4 surveys over 6 months
After the dental visit, all study activities are done remotely
WHY SHOULD YOU PARTICIPATE?
Learn to intervene with tobacco use
Earn free CEs
Free giveaways for patients
iPad to keep at the end of the study
Collaborate with other oral health practitioners
You will be compensated $50 per participant who receives the study intervention and may earn up to $1,250
Your patients will be compensated up to $180
WHAT DENTISTS ARE SAYING ABOUT THIS STUDY

Dr. Louis from HealthPartners participated in the pilot study.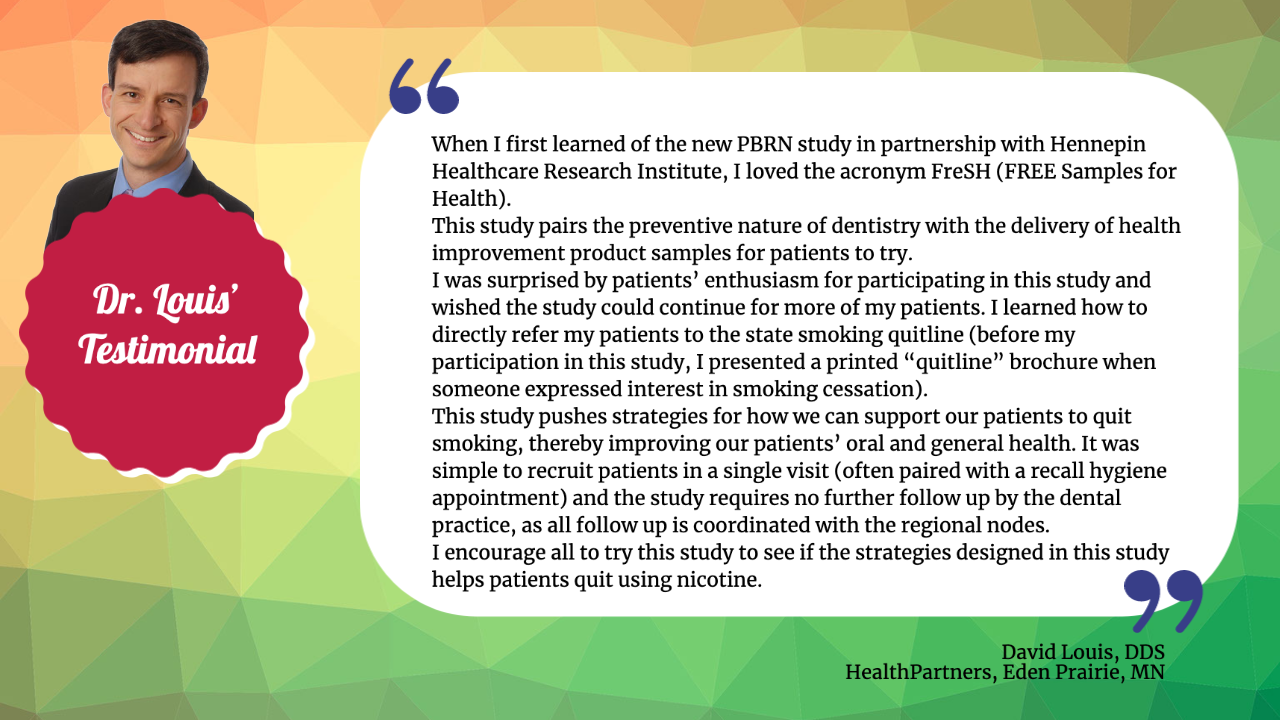 CONTACT US TO PARTICIPATE
If you are interested in testing a quit smoking intervention in your dental office, you may be eligible to participate.
Email us and a node coordinator will contact you for the next steps.
If you are interested in participating, contact us!
The FreSH study is funded by the National Institutes of Health / NIDCR U19-DE-28717, U01-DE-28757 and 4-UH3-DE-030090-32.