Randall Palmore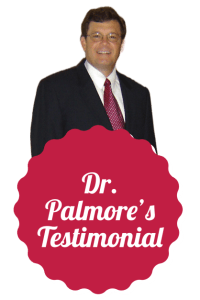 After practicing General Dentistry in my hometown for 40 years I have begun to look back over my career and review my vocational journey and what aspects impacted the practice and my accomplishments the most. Having the opportunity to return to my place of birth and serve my community and their dental needs has been very fulfilling for me. My goal was to provide a practice where people could experience kindness, compassion, and excellent treatment in their dental care.
Throughout my dental adventure, I have seen the need to stay current due to the rapidly changing technology and materials used in our profession. One of the most profound changes that occurred in 2005 was the opportunity to actually participate in real world research in my own private practice with the establishment of the Practice Based Research Network (PBRN). This was a game changer for my practice and my career professionally, allowing me to be a part of hands-on research.
Our patients fully supported and appreciated our attention and devotion to staying current regarding their care and treatment. Also, having the privilege of presenting study outcomes with my colleagues from all over the world at our regional meetings has been a tremendous way to connect with other dentists and improve my communication, presentation and speaking skills.
I encourage all of my dental colleagues to join the PBRN early in your career and discover a wonderful aspect of dentistry that will greatly impact your journey.
Randall Palmore, DMD, MAGD
The Dental Health Center, Pinson, AL
Interested in Becoming a Member?